For years as a psychologist I preached about the healthy body healthy mind connection, about balancing our work-life and living our values.  Combining the formal mental health sector as well as being a business owner, I try to take my own medicine – or chlorine water, in my case.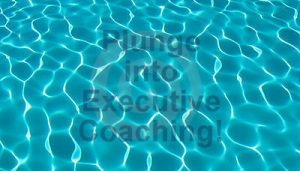 I love open water swimming, the type where you immerse yourself in icy cold dark pools and gasp for your breath before you even start to swim.  Being brave about swimming, and it has taken some getting used to, has also made me a bit braver about being a new business owner. And so it is that I often find myself mauling over business-and-sport analogies when I am in the water.
Living in the UK means the water is more often than not the chlorine filled pool of the local health club, where I am not mindfully and peacefully breaking the surface of a ripple free lake.  No, this morning my swim started off as the life-guard training ended, and I ended when the ladies from the aquarobics were making waves!  And in the only lane left for swimming three of us were battling it out for not only keeping head above water, but also find a synchronisation with each other. At some stage my arms were feeling like lead but I didn't want to lose the rhythm I had with my goggle-eyed colleagues. At another turn I needed to stop for a breath and let the two bright caps pass me by before I found a new rhythm in joining them in the up-and-down race.
Often, when I work as an executive coach in the triangle that is company-coachee-coach, it can be a bit like swimming with two other people in rocky waters. It is about finding your own breathing pattern, synchronising diaries and distances and all the while being aware not to kick someone in the face.
And the beauty is that when I stay focussed on my work as a coach, supporting and offering space for growth, we do get to swim as much as we need to, together, in one tiny lane. And the company benefits from the results of the coaching that they are paying for, and the coachee can see and feel the difference in their own work-life.
Executive coaching is a way to gain a healthier, balanced work-life. Are you ready to take the plunge?